In the ever-changing world of Santa Cruz County's real estate market, we've witnessed some noteworthy developments that both buyers and sellers should be aware of. From fluctuating interest rates to evolving inventory levels and pricing dynamics, the market is transitioning to a more balanced state. Here's a comprehensive update on the current scenario and how it's impacting the real estate landscape in Santa Cruz County.
Interest Rate Insights: Impact on Affordability
Interest rates are always a hot topic in the real estate world, and their recent movement is no exception. At the beginning of October, the 30-year fixed rates increased from 7.49% to 7.79%. While a 0.3% rise may not seem substantial at first glance, it does have a meaningful impact on the affordability of homes for many potential buyers.
The last time we saw rates this high was in the fall of 2000. Back then, however, the median sales price for a single family home in Santa Cruz County was $462,500.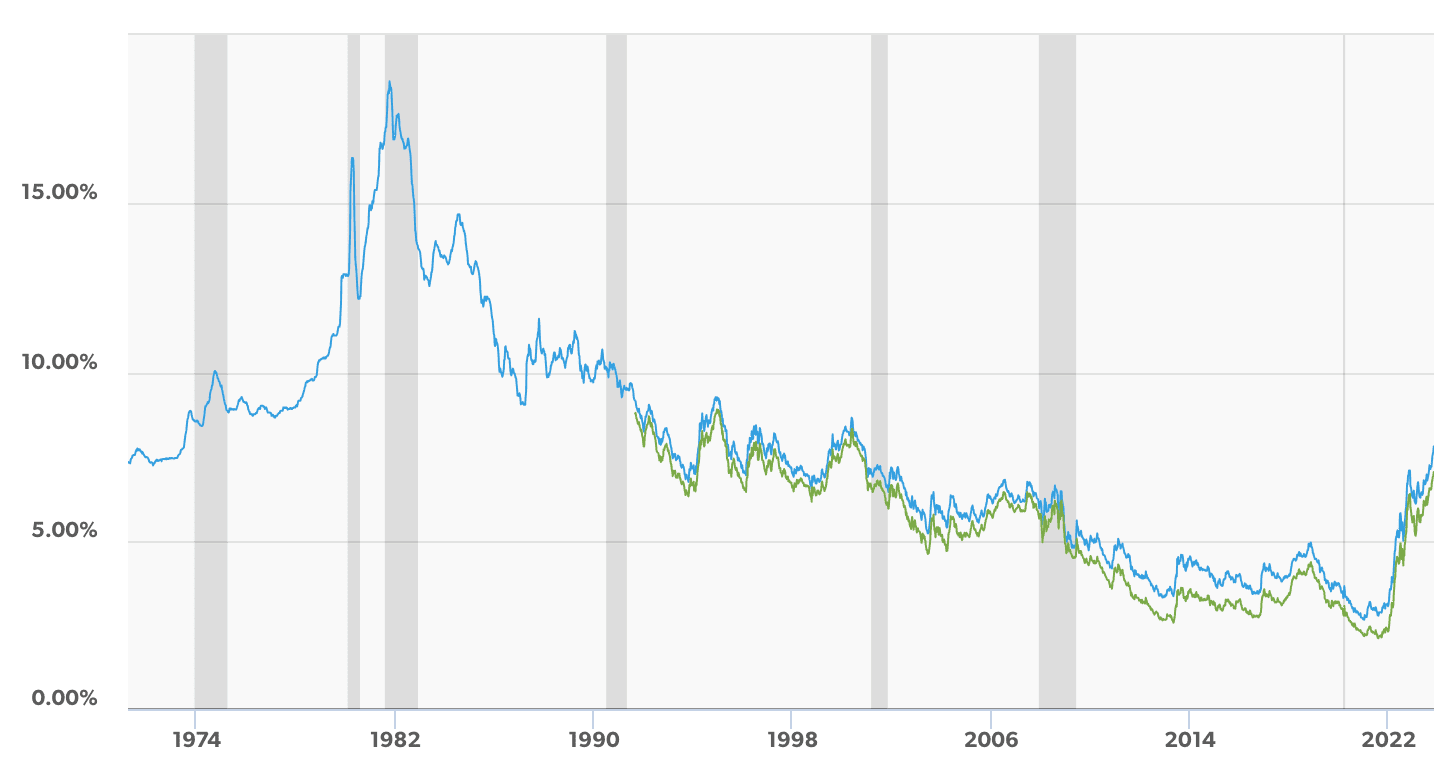 Inventory Fluctuations: A Buyer's Welcome
As the seasons change, it's typical to witness fluctuations in inventory levels. In October, we observed a month-over-month decline in the number of single-family homes listed on the MLS. However, when we shift our focus to a year-over-year perspective, we see a positive trend for buyers. This is particularly good news since the market has been characterized by low inventory levels in recent years.
Pricing Trends: A Mix of Movements
Pricing dynamics are another crucial aspect of the market. In October, the median sales price experienced a 3% month-over-month increase, reaching $1,223,000. Nevertheless, the bigger picture reveals a year-over-year decline, with prices falling short when compared to the same time in 2022. In fact, 9 out of the 10 months this year have reported lower sales prices, with an average decrease of 8% year-over-year each month.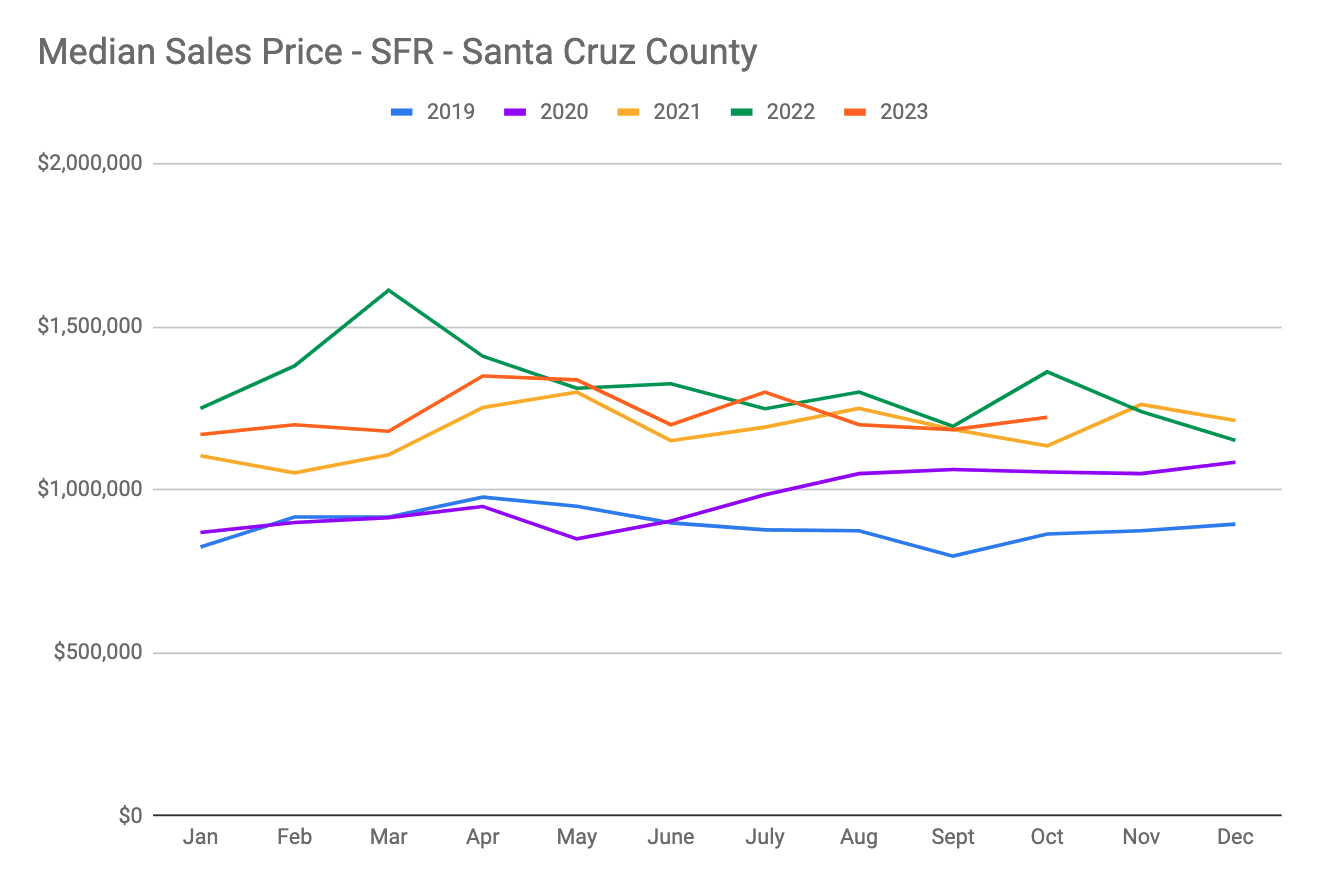 Days on Market and Contract Activity: A Quick Sell but Fewer Takers
Homes in Santa Cruz County found buyers more swiftly in October. The Days On Market (DOM) decreased both month-over-month and year-over-year, with homes selling in an average of 30 days. This expedited pace may be attributed to buyers' concerns about the potential continuation of rising interest rates.
Conversely, the number of homes going into contract declined notably, with 84 in October compared to 122 in September, indicating a shift in market activity. Fewer homes are selling, but the ones that do are selling more quickly.
Months of Inventory: A Gauge of Market State
Santa Cruz County's real estate market has been hovering at 2.6 months of inventory this fall. This figure has seen an increase compared to the period during the peak of the pandemic from 2020 through early 2022. However, it still falls short of reaching a state of equilibrium. Historically, a seller's market is defined as anything below 4 months of inventory, while a balanced market falls within the 4-6 months range. A buyer's market is anything exceeding 6 months, something we have not seen in a very long time.
Price Negotiations and Seller Behavior: A Paradigm Shift
Surprisingly, homes in Santa Cruz County sold for an average of 4% below their original asking price in October, marking three consecutive months of downward trends. Moreover, so far this year, the average home sold for 2% below the asking price, in stark contrast to 2022 when homes typically sold for 2% above their asking price.
One intriguing shift is that fewer homes are reducing their asking prices. Sellers appear to be exercising patience and awaiting market signals, opting to accept lower offers rather than reducing their prices. This may be driven by the realization that a price reduction could lead to an even lower final sales price if a buyer offers less than the revised figure.
The New Normal in Santa Cruz County Real Estate
It may seem like the market has cooled down, especially when we compare it to the extraordinary conditions observed from 2020 through early 2022. However, it's essential to understand that those years were far from normal; they were characterized by unique and unprecedented dynamics. The market is now transitioning to a more typical and balanced state.
To clarify, Santa Cruz County is still very much a seller's market, even though it might not feel that way when compared to the frenzied sales of 2020 through early 2022. During that time, it was common to see homes receiving multiple offers within a day or two, buyers waiving their contingencies, and some purchasing homes sight unseen.
This evolving market is creating opportunities for buyers, granting them more negotiating power than they've had in recent memory. Prices are adjusting, below-asking offers are gaining acceptance, buyers can retain the protection of their contingencies, and sellers are making more concessions, ranging from repairs to covering closing costs and even assisting with mortgage rate buydowns.
Related: 5 Advantages Homebuyers Have Today
Sellers, by pricing their homes correctly and offering enticing incentives, can ensure their property sells within a reasonable timeframe. It's all about patience and a willingness to think creatively.
If you're curious about how to leverage these shifting market conditions as a seller or buyer, don't hesitate to reach out. I'm here to help you navigate this ever-evolving real estate landscape and make the most of the opportunities it presents.

[email protected] | 831.854.7489 (mobile)