The housing market in Santa Cruz County faces continued pressure as high interest rates persist, affecting home sales and prices. Though today's environment presents challenges, opportunities emerge for buyers and sellers as the market returns to more normal conditions with signs of balance. This blog explores the recent market trends and provides insights for both sellers and buyers in this changing landscape.
---
Santa Cruz County's housing market faces ongoing challenges due to persistently high mortgage rates, leading to a decline in home sales for the third consecutive month in September. According to the data, existing single-family home sales in September were at 105, reflecting a 16 percent decrease from August and a 20 percent drop compared to September 2022. This trend highlights the impact of interest rates on the local housing market.
The median sales price in September was $1,185,000, which is a decrease of 1.25 percent from August and 1.2 percent from September 2022. Year-to-date home sales for the county were down by 22.4 percent in September, indicating a significant shift in market dynamics.
Notably, eight out of nine months this year have seen median sales prices lower than those in 2022, with the year-to-date median sales price down by 5.8 percent year-over-year, resting at $1,248,500 compared to $1,325,000 for the same timeframe in 2022.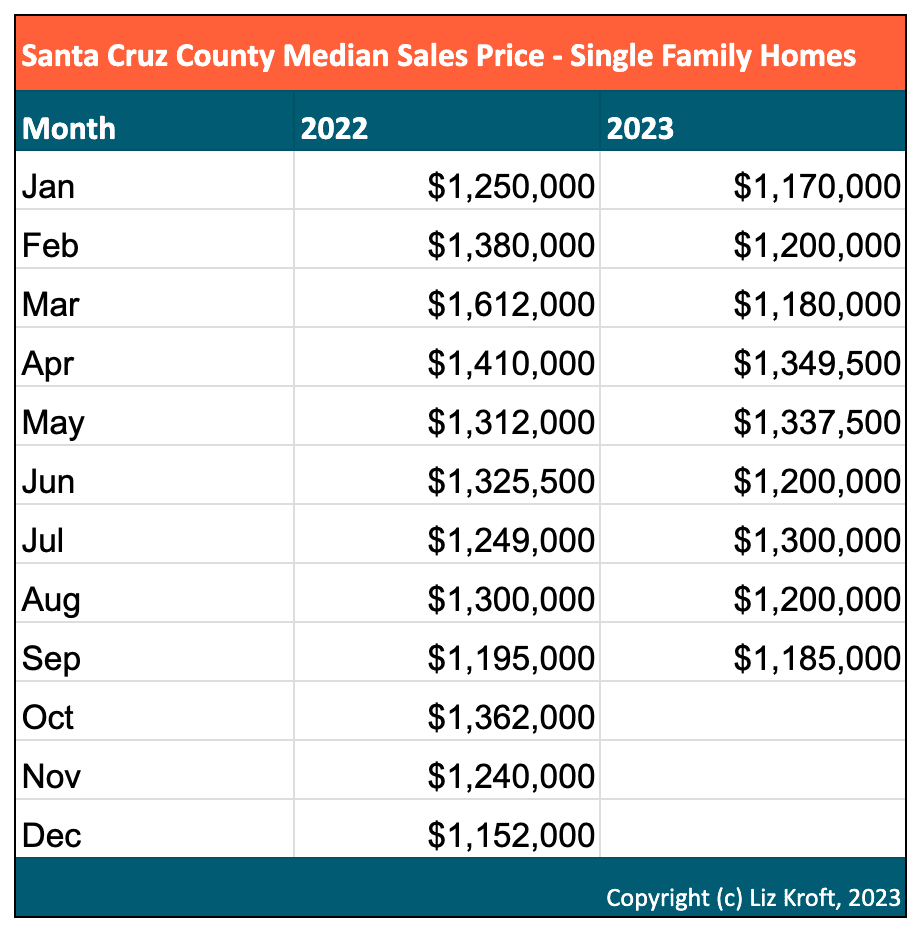 These market adjustments have opened up opportunities for consumers, particularly for those purchasing homes for personal reasons or those who qualify for today's interest rates. The market's reduced competitiveness has led to more sellers making concessions, extended time on market (37 days compared to 28 in August and 31 in September 2022), and a sale-to-list price ratio of 97.3 percent in September, down from 100.6 percent in August but relatively consistent with September 2022.
Around 40 percent of homes sold above asking in September, up slightly from 37 percent in August but down from 44 percent in September 2022. These figures reflect a changing landscape where sellers and listing agents are adjusting to the cooling market, with price reductions becoming increasingly common in recent months.
The rise in mortgage rates, reaching levels not seen in over two decades, has impacted home sales across California and the nation. In September, the 30-year fixed-mortgage interest rate averaged 7.20 percent, up from 6.11 percent in September 2022. With the Federal Reserve planning to maintain higher rates for an extended period, borrowing costs are likely to remain elevated.
Housing affordability remains a challenge, particularly in the low- and mid-price ranges. Consequently, the market experienced a decrease in sales in September compared to both the previous month and the previous year.
Opportunities Exist For Sellers & Buyers
Despite these challenges, there are opportunities for both sellers and buyers.
Sellers can stand out by being more flexible in negotiations, offering concessions, and showing patience with the process. Pricing a home correctly and partnering with a skilled realtor are essential in the current market.
Related: The Perks Of Selling Your House When Inventory Is Low
Buyers now have more negotiating power, with prices stabilizing throughout 2023. They can leverage this by making competitive offers, maintaining contingencies, requesting credits and repairs, and discussing options for buying down interest rates by 1-2 percent.
Key Takeaways
While high rates create obstacles, glimmers of opportunity exist for buyers and sellers as the market resets from rapid growth to stability. It's crucial to remember that the current market should be viewed in the context of the highly unusual market conditions experienced in 2020 through early 2022. As the market returns to a more typical state, both sellers and buyers can adapt to the evolving landscape to achieve their real estate goals. It's an opportune time to work closely with a knowledgeable realtor who can guide you through these changes and help you make the most of the current housing market.