As the weather warms and trees bloom, you're likely curious about what to expect this spring when it comes to buying or selling a home in Santa Cruz County. While there are a handful of factors contributing to a degree of uncertainty, such as the conflict overseas, inflation, and the first Federal Reserve rate increase in over three years - the housing market appears to be relatively immune (at least for now).
The Santa Cruz County market ended the winter with one of the wildest months we have ever seen. Nearly all of the data points that I track showed us that March was one of the hottest ever.
Buyer demand relative to the supply of homes for sale continued to keep the market strongly in favor of sellers.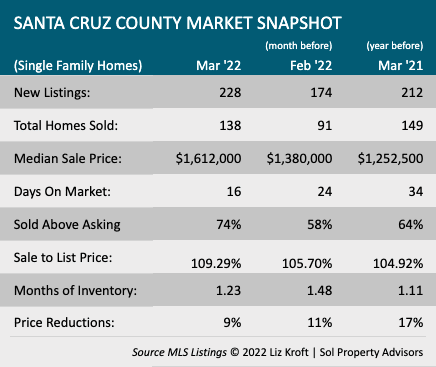 New listings were steadily on the rise in March, but still not enough to meet buyer demand. Inventory of single-family homes was up 31% month-over-month and 7.5% year-over-year. The data that tells the story of robust buyer demand is:
The median sales price hit an all-time high of $1,612,000.
Homes flew off the shelf at a near-record low of 16 days on market (last June saw 13 days).
The average home sold for a 9.3% above the asking price (the highest I've seen since I started tracking the numbers in 2009).
Only 9% of properties reduced their price prior to selling, another record-setting number.
74% of homes sold above asking, the highest seen since last June (also 74%).


Coming out of the winter months and undeniably one of the hottest months in Santa Cruz County real estate on record, let's take a look at what to expect this spring.
1. Mortgage Rates Will Rise
Freddie Mac reports the 30-year fixed mortgage rate has gone up by more than a full point in the last six months. Despite some mild ups and downs in the last few weeks, industry leaders are in general agreement that rates will continue to increase over the next ninety days. According to Freddie Mac:
"The Federal Reserve raising short-term rates and signaling further increases means mortgage rates should continue to rise over the course of the year."
For first-time buyers or sellers considering a move to a home that better fits their needs, it should be noted that waiting may very well mean you'll pay a higher rate on your mortgage. Higher rates can drive up your monthly payment and add up over the life of a loan. As a general rule of thumb, for every 1% increase in rates, buyers lose roughly 10% of their purchasing power.
2. Inventory Of Homes Will Increase
In the coming months, there may be some relief coming for buyers looking for a home. Q1 inventory has steadily been on the rise for the last four years. At the end of March Q1 inventory in 2022 was 6% higher than Q1 of 2021 for Santa Cruz County.
Similar trends are being seen around the country according to reports from Realtor.com and the National Association of Realtors. The number of homes for sale usually rises every spring, and it appears, based on recent activity, that the next ninety days will likely bring more inventory to the market.
If you are a buyer who has been frustrated with the small selection of homes available for sale, it seems as though you can expect to find some relief this spring. PRO TIP: Still be prepared to act quickly when you find "the one".
If you are a seller in the market, putting your home on the market now versus waiting for this additional competition to hit the market certainly makes sense. The amount of leverage you have in negotiations during the sale will be impacted as additional homes come to the market.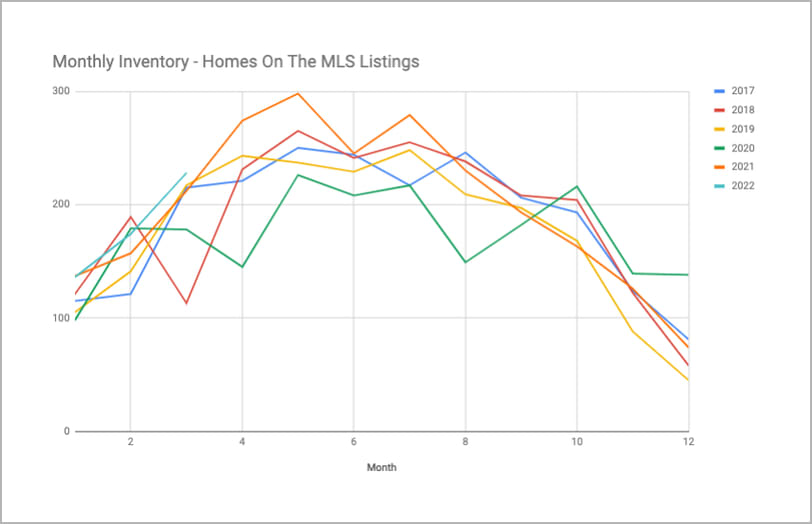 (C) 2022, Liz Kroft, Sol Property Advisors
3. Home Prices Will Increase
Raise your hand if you remember the supply and demand principles of Economics 101. Here is a little refresher: prices are always determined by the supply of something relative to demand. While the number of homes coming to the market for sale is on the rise, buyer demand is still very strong in relation. As realtor.com explains it in their most recent Housing Report:
"During the final two weeks of the month, more new sellers entered the market than during the same time last year. . . However, with 5.8 million new homes missing from the market and millions of millennials at first-time buying ages, housing supply faces a long road to catching up with demand."
So, how does this impact you? With demand for homes still well above supply, the price of homes will continue to appreciate. Many industry experts think that the pace of appreciation will slow from the high double-digit levels we have seen over the last two years. In March, the median sales price saw a mind-boggling 29% increase year-over-year. The slowing appreciation means that prices will continue to climb but at a more tolerable speed. The majority of experts believe that home prices will not depreciate.
But…Won't Rising Rates Cause Prices To Fall?
Some consumers and industry professionals may think that a 1% increase in mortgage rates will affect demand strong enough to cause home prices to fall, but experts say otherwise. There is so much pent-up demand and more buyers in the market than ever before. While many buyers will feel the pinch and remain on the sidelines there are countless others that will be out looking. Doug Duncan, Senior Vice President and Chief Economist at Fannie Mae, states:
"What I will caution against is making the inference that interest rates have a direct impact on house prices. That is not true."
Freddie Mac studied the impact that mortgage rates increasing by at least 1% has had on home prices in the past. Here are the results of
that study
: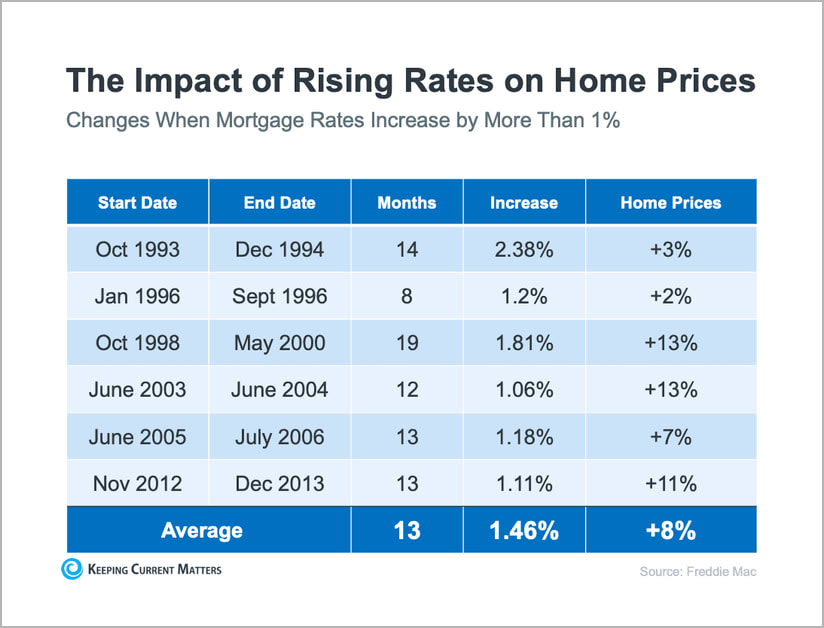 As this shows, mortgage rates rose by at least 1% six times in the last three decades. In each case - contrary to what you might expect - home values went up.
To repeat what was mentioned earlier, if you are a buyer in the market, waiting to buy likely means you will be paying more for home later in the year.
Key Takeaways
There are three key points that seem to be a sure thing going into the spring housing market in Santa Cruz County (and the majority of the country for that matter):
Mortgage interest rates will continue to rise.

The inventory of homes for sale will continue to increase.

The price of homes will continue to appreciate but at a slower rate.
If you are thinking of buying, there may be no time like the present. If you are considering selling your home, your best bet may be to sell sooner than later you.
If you're thinking of buying, act now before mortgage rates and home prices increase further. If you're thinking of selling, your best bet may be to sell soon so you can beat the increase in competition that's about to come to market.
What are your real estate goals? Wherever you are or would like to be in the housing market.
Let's Connect