A key data point in today's housing market is the number of homes available for sale. The relentless shortage of available homes in recent years is a major cause of the double-digit price appreciation we've seen in each of the last two years. It's the reason many would-be homebuyers are fed up with the bidding wars over the homes that are for sale. However, signs of relief are starting to show up.


According to my analysis of the data from MLS Listings inventory has increased steadily since January. In fact, when we compare listings January 1st through August 31st the number of homes listed on the MLS is the highest we've seen in in that timeframe since 2015!
What normally happens throughout the year?
Housing inventory in Santa Cruz County traditionally increases from late spring throughout the summer months and starts to dwindle in the fall and then drops substantially over the winter. The graph below shows this trend along with the month inventory peaked each year.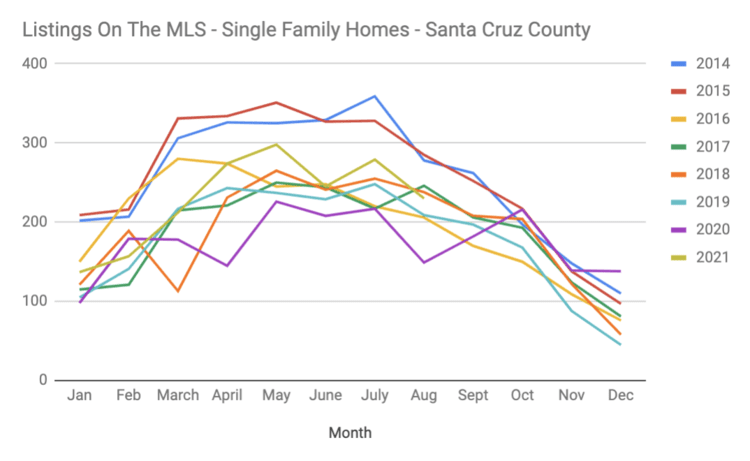 What happened in 2020?
Last year, the trend was different. Typical seasonality wasn't repeated in 2020 since a large number of homeowners delayed listing their homes for sale because of the pandemic (see the graph below). Last year, listing inventory had a very slow start in the year and mostly tapered off after May.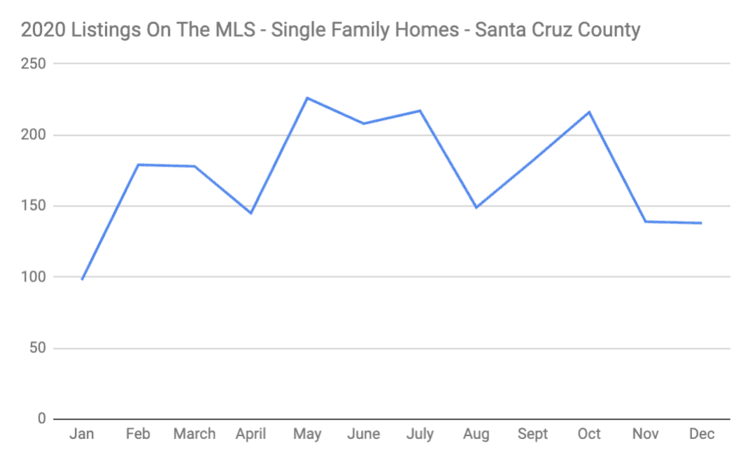 What's happening in 2021?
As a result of declining listings in 2020, this year began. with low housing inventory levels. However, the Santa Cruz County housing market has been building inventory over the year as more homes for sale come to the market.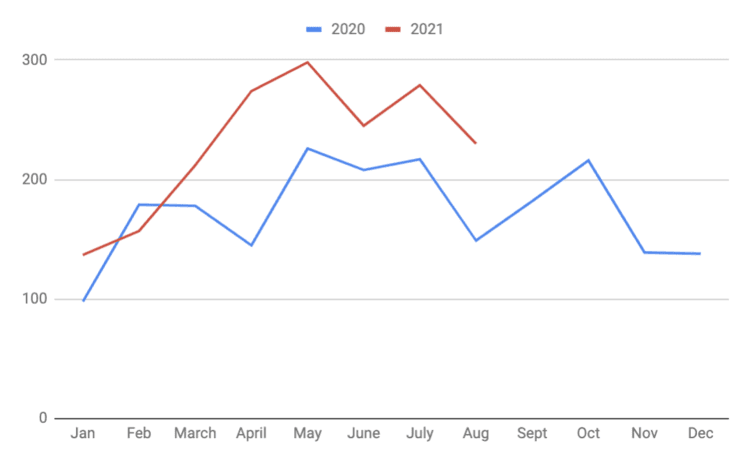 There are three key reasons we are likely to see inventory levels continue to increase throughout this fall and into the winter.


Pent-up demand – Sellers may be more comfortable listing their homes for sale as more and more people get vaccinated and active cases of COVID generally decline.
New construction is starting to take off – Though new construction is not included in the MLS Listing numbers, as more new homes are built, there will be more options for current homeowners to consider when they sell. The lack of options has slowed many potential sellers in the past.
The end of forbearance will create some new listings – Most experts believe the end of the forbearance program will not lead to a wave of foreclosures for several reasons. The main reason is the level of equity homeowners currently have in their homes. Many homeowners will be able to sell their homes instead of going to foreclosure, which will lead to some additional listings on the market.
Eviction moratoriums end - Many investment properties were tied up due to tenant protections during most of 2020 and 2021.
And of course prices. Many sellers are eager to take advantage of some of the highest prices the market has ever seen with the mentality that this party can't last forever.
Bottom Line
If you are in the market to purchase a home, stick with it. More and more new listings are coming to the market every day.
If you've been thinking of selling your property, you may want to put it on the market before this additional competition for your home shows up.